Welcome! I am Stefan Franken, married and father of three beautiful daughters and a great son and I am pleased with your visit on our website we dedicated 100% to help you realize your dream. Feel free to contact me 24/7 by skype, email or social media to share your ideas and questions so me and my team can help you with our expertise on Marketing & Sales, Financial, Business Planning, Social Media, Websites and off course the hair business. Read my Promise to you
My promise to you is to turn your passion for hair into a unique money making hair extension shop
You can keep me to this promise, Why? Because I believe in you!
Our clients
Our clients come from all over the world, but as the map shows mostly North America, Europe and Africa. If you would like to meet some, take a look at the hair suppliers mall. Here you find some hair stores we put in the spotlight and we supported with our eBook, (free) promotion, improving their sales, coaching and business planning.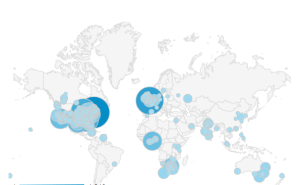 How to Contact us
How to contact us: Skype: HowToSellHairExtensions, or use the blue Can I Help ? button right below in the screen or by WhatsApp + 31 (0) 6 234 44 902 Call HowToSellhairExtensions on Skype and ask anything you like! No time to wait or your question is too complex to write it down in an email? Get your answer right away by asking your question through SKYPE HowToSellHairExtensions and hear your answer right away!
Payment methods
For all products you can use PayPal, but if you prefer an other payment method it´s possible by Western Union and Bank Transfer. Western Union If you do not use PayPal, you can still purchase our supporting material like eBook, Business Plan templates, VIP Introduction and tailor made Business Plan. Simply use Western Union attention to Stefan Franken, The Netherlands and email us your MTC code, plus the supporting material you need. Bank Transfer Or you can make a transfer to our Bank ABN Amro NL33 ABNA 0486 705226 Manacharay BV city: Huissen The Netherlands, please email us with the supporting material you need.
How can we keep on supporting you?
We want to support ´start-ups´ as we believe the best driver for economic recovery are small and medium sized companies. We have many years of experience in finance, marketing and the hair extensions business. The aim of Howtosellhairextensions is to make it possible for people who have passion for hair and hair extensions,but not always have the required financial or marketing support, to start their own hair business. Our aim is to support start ups with high quality and up to date information, but at no or low costs. As we know start ups have limited resources we prefer not to charge anything to you and we keep on searching for sponsors to finance this goal. We want to be transparent about our financing, so you can value our advice more better, for this we share our source of income for HowToSellHairExtensions.com and the Spanish version Ventadeextensionesdepelo.com with you. We found several ways to enable to continue this free service, we have our own eBook, a practical guide to start your own business in 10 days, direct consult by Skype, business plans and we offer paid advertisements after a two weeks free period. But we also use sponsored advertisements where, through Chitika, relevant offers are made by various advertisers. If a visitor of our website finds an offer attractive and clicks on the displayed advertisement a small amount will be donated to howtosellhairextensions.com. And finally we depend, to keep the free service in the air, on companies or publishers, like amazon and BLUEHOST for webhosting, where visitors can shop for products. In this case again Howtosellhairextensions.com will receive from these company a certain amount if a product or service is purchased after the visitor visited the banner of the publisher on our website. With this set up we try to finance the running costs of the website and the email consultancy service without charging you as a start ups. But we keep on looking for other ways to fund this project, so any donation on our paypal account advice@howtosellhairextensions.com is very much appreciated.
Welcome and good luck in the hair business!
How to Make Money in a Business that´s Still Fun!
Every day women all over the world buy hair extensions, Straight, Wavy, Curly … just the hair extensions that makes them look the way like they should, beautiful. And now your side of the story, every day people are selling hair extensions, weft, clip in, feather… just the hair extensions that make their clients look best and why won´t you be the one selling?