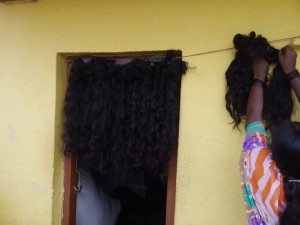 Question: Good afternoon, I'm looking to start my own hair business. I have been a licensed hair stylist for over 12 years. For the last 2 years I have been a stay at home mom. I see a need in my area for good quality hair extensions. The problem I seem to be having with trying to start my business is a trying to find a whole vendor. I came across this site and I would love to know more about how to purchase hair wholesale.
Thank you for your time!
Phylicia B.
Answer: If you sell hair to your clients you want to be sure the quality is good and if your clients are happy and they return to you for more hair, you want to provide them the same quality as before. If you have to pay for your order, you also want to be sure that the supplier will provide you the hair. And how can you be sure it is indeed 100% human hair, for example from India as the supplier told you? A lot of questions that will have a great impact on the success of your business, so you need to get the answers before you start selling hair. First you have to find the supplier, and check the reputation of the supplier followed by the test on the product. As for the supplier you can enter into business in various ways: * Supplier with physical presence in your country, * Online store in your country * Online store anywhere in the world * Supplier with physical presence outside your country
The search for suppliers is rather easy, you can check the yellow pages, use an internet search engine (yahoo, Google or Bing), visit hair shows or just ask other people who are already selling. And, on top of this, once you opened your business you will receive emails from all over the world with offers to buy hair. Too bad they do not want to buy from you!
You can also check our VIP service to get suppliers inboxed