No matter if you sell only online or in combination with a salon, email marketing can help you grow your audience and convert prospects into loyal customers – at a fraction of the cost of most other marketing channels.
You can build relationships and brand recognition. Promote events and sales. Plus, it's easy to coordinate email content with social media. And with the right tools and support at your fingertips, you can achieve all of that – no design or coding experience needed!
Email That's Easy And Effective
You don't want to spend a lot of time creating emails. Aweber gets´ that. For easy and effective email marketing, Aweber is pleased to provide:
BEAUTIFUL EMAIL TEMPLATES With over 600 customizable, mobile responsive drag-and drop email templates for broadcasts and follow ups, your messages will look great wherever recipients open them.
DRAG-AND-DROP MESSAGE EDITOR Want to add in an element, like a headline, button or image? Just drag it into your message and drop it where you want it. It's that easy!
INDUSTRY–LEADING DELIVERABILITY Aweber has been helping businesses grow with email since 1998. And with over 99% deliverability, they will get your messages where they need to be: in the inbox.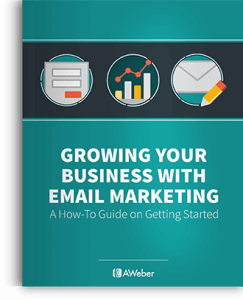 Email That Grows Your Business
What's an email newsletter without subscribers? Aweber will help you grow your audience so you'll have people reading, and responding to, what you're sending out.
SIGN UP FORMS Choose from a variety of templates, customize them with different fields and start getting subscribers from your website. AWESOME APPS Grow your lists with dozens of services that plug into AWeber, such as:
Facebook: Install a sign up form on your page to convert your fans to subscribers.
PayPal and Shopping Carts: Turn your buyers into subscribers, and send targeted offers by adding them to special lists based on purchases.
Plus, many more – so you can connect your email marketing to all the online tools you use.
RUN SPLIT TESTS Create different forms, then test which one gets more subscribers so you can build your list faster.
IN–DEPTH ANALYTICS As you're growing your audience, our detailed stats will help you measure success. Quickly see who's opening, clicking, downloading and buying (and who's not). With a click, you can create new segments and send targeted emails to those groups for even greater relevance and impact.
Try Aweber now
Try the test drive now!

Start Your Free Trial Today