Selling Hair Extensions in Kenya
It does not make a different if you are from Nairobi, Mombasa or Nakuru, selling hair extensions in Kenya is HOT.
The local beauty news but also for example Google shows there is an outbreak of interest for hair and hair related searches, this means women are orientating about the latest hair styles and of course they also are looking for where to buy human hair extensions, wigs or weaves in Kenya.
Make money selling hair extensions in Kenya
Are you one of the nearly 17 million young women in Kenya who wants to look great and thus interested to purchase hair extensions or weaves, or…. are do you have the passion to make others feel and look good and to make some nice money out of this growing demand at the same time?
If you want to start your own hair selling business and make some money, in Kenya, feel free read further
Learn from Darling Kenya
Before you start your own hair business, learn what the others do, for example Darling Kenya, they offer an assortment of braids, weaves, extensions and wigs. It is the first brand in Africa to introduce Kanekalon fiber (Hot water use).
To start read their mission and see how you can get some ideas for yourself
Our Consumers: To passionately provide the best and constantly search for innovative ideas that will lead to new, modern, unique and beautiful hair styles for our customers.
Our People: To provide a great working environment for our staff to execute their tasks. This will reflect in their efficiency, positive customer interactions and relations and personal growth of each staff member.
Network: Cultivate an endearing network of customers and suppliers, so that together we create a mutual &enduring partnership.
Excellence: We aim to achieve excellence in the production of each hair piece from design to delivery. It is the benchmark for all our endeavours as a company.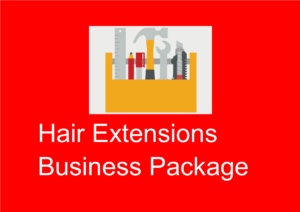 So, Darling Hair Extensions show their passion in making people look and feel good. Customers notice this, so for your own branding make sure your passion for hair and other people shows! Never put making money first, always put your client number one! How? What about to offer them always the latest style or most innovative products!
If you have people who help you selling hair extensions in Kenya, regardless if they have their own salon or are only agents make sure you treat them well.
If you work in the interest of your client, or your suppliers, they will appreciate this and you will be able to build a unique network, what will certainly differentiate you from the competition.
What you can do better!
If you visit the website of Darling Hair Extensions you will notice the blog and news is a little outdated, the last news dates from 2014, if you want to share the best information and news about hair and beauty with your clients, make sure you have a regular update of your blog.
Another thing to think of is the product info, be transparent and share price info about the hair extensions, shipping conditions and all the background you can share about the origin of the hair, the donors if you sell human hair extensions or about the fibre you use if you sell synthetic.
Do not forget to place your client in the middle and make sure you have a return policy that proofs you are 100% confident about the quality of your hair extensions and that tells the customer do not worry, if you are not happy we will accept your return.
Start now!
So what is stopping you from starting selling hair extensions in Kenya and to make some nice money? If you need some guidance to start with success, I recommend to treat yourself on our Business Template package so you can  open your, first, hair extensions shop in Kenya .
You have a dream to launch your own online hair store, or your hair sales are lacking behind expectations. What can you do? Give it all up and let others succeed? Wouldn't it be great to talk for 10 minutes with somebody who not only understands the hair extensions business, but who can help you with advice too?
Ready to start, get my eBook From Dream to Your Own Hair Extensions Business in Only 10 Days and start selling!