Selling Hair in New York
Selling hair in New York has great opportunities for salons and other beauty shops. Offering hair extensions, next to your hourly based fees is a great way to broaden your revenue base.
A light survey on internet shows the demand for Hair Extensions in New York is still growing,
What are your New York based clients looking for?
To get the attention of the right audience, you have to make sure you offer the products they are looking for, so what are your potential clients looking for?
The top of the mind of your clients are, hair clip extensions or clip in extensions, human hair extensions and feather extensions. The source of this is Google trends where you can find the most used search terms for a specific region or city. So if you are selling hair in New York you can use this to figure out, as a start what your potential clients are looking for.
The next step is to use Adwords from Google. This tool you can also use before you place any advertisement, so it's a great and free research tool. Use the Keyword planner to find out what the search terms are people are looking for.
The great thing is, you can fine tune your search on the level of your own city, so if you are selling hair in New York, fine tune the search volume to New York.
You'll find out all the above mentioned search terms, like hair clip extensions or clip in extensions, human hair extensions are very competitive, so many web shops use these words. But no problem, now all you have to do is to check for a great supplier and in the meantime start a campaign around all or some of these products.
Build your product campaign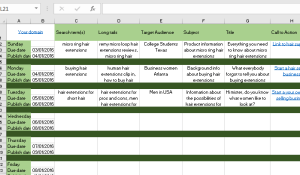 Use a blog campaign template, we developed one that helps you to plan your campaign of blogs or newsletter postings to let the world, or New York, know you have in store what they are looking for. The template helps you to communicate in an organised way your message about products. The template is included in our Newsletters so all subscribers will receive it, but if you prefer to get your own copy now, just tell us.
If you use the template not only for the exact search terms, like clip in extensions, but also search terms that are similar to this you will reach many more potential clients. For clip in extensions, think of Searches related to clip in extensions, so place some blog posts about:
how to put in clip in extensions
clip in hair extensions
where to buy clip in hair extensions in stores
tape in extensions
hair clip ins
thickest hair extensions
But you can add any other related search term.
Was this post helpful, and are you ready to grow your business ?