Call us on Skype
You are not alone if you are selling hair, being your own boss does not mean nobody wants to support you. If you have a tough decision to take, if you don't know what to do next, if you just need a talk, we are there for you!
Contact HowToSellHairExtensions on Skype and we plan a chat, we listen and share our advice, or if you prefer we only listen. Your story is important and our solution will be tailor made.
Don't quit following your dream, do not let others take your part of the pie, feel free to contact us and start with passion again once you finished the call on skype.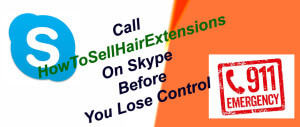 How does this work
If you mail us your Skype name and your time zone or location we contact you, by Skype to set a date for the call. That's all. On the agreed time you can have the talk for 15 minutes.
What do you have to pay
Nothing at all.
Our Skype name
Our Skype name is HowToSellHairExtensions
How to make an appointment
Mail your Skypename and the place you will be calling from to advice@howtosellhairextensions.com and we will contact you by Skype for an appointment