How to rank high with your hair extensions on Facebook
Facebook tells us they are in the business of giving their users the most interesting possible experience every time they visit Facebook. That's exactly what you want also for your hair buying visitors! So all you have to do is to convince Facebook that others should see your hair extensions on Facebook. Simply because your hair offering is the best that can happen to people looking for extensions on Facebook!
How to stand out of the crowd on Facebook
One out of every seven people on our beautiful hair loving planet is using Facebook. They all want to share their ideas, feelings and even hair extensions on Facebook.
Facebook wants to avoid their users will find 1,500 or more relevant posts that people share in their newsfeed. Because people will most likely shut down their computer right away. Facebook designed some rules to make sure you'll only find the upper most relevant piece of information for you. So you will see much less stories.
If your stories are not shared by a lot of people, Facebook thinks there are stories shared on Facebook that are much more interesting or relevant for their users. And because Facebook is still the number ONE social media platform, giving the best users experience on all devices, from desktop to mobile, you better re think your Facebook strategy. After all you have to get your hair extensions on Facebook.
How to end up high in somebody's newsfeed
Facebook uses algorithms to decide what story should rank above most other postings. More people will see your hair extensions post if:
The content and source is close to the user of Facebook. This measurement will be the strongest with your customers or friends who already are connected with you, but make sure you also interact with them. After all, it's called social media.
Facebook will also take into account how close you and your friends are, for example based upon the status of the Notifications button. Do you share with a close friend or with an acquaintance? So another reason to make sure your followers see you as their best friend!
If the story or post is not really picked up by your friends, but it is shared frequently by many, many other people in the community, a big chance your post will end up in their newsfeed.
So how is the relation between you measured in terms of clicking, liking, commenting, tagging sharing and their friend's actions. First of all, keep the conversation going! If you did not communicate with somebody on Facebook for some time, Facebook concludes the two of you are less interested in a relation. Thus what you post about your hair extensions on Facebook will be less interesting for the other.
How much do you invest in the relation?
For Facebook a comment means you care more about the relation with another person, then if you simple press a like button. Well this is quite similar in real life, a good chat with a friend we value more than if your best friend only waves goodbye when she sees you again after a holiday of a week. This is because a comment on Facebook might trigger a response, while a like, although highly appreciated triggers much less feedback.
The type of post is important, a picture or video does better than a link, depending … on the user preference. If people only respond on pictures, this will influence if your picture will be shared with them. If you only post pictures, regardless how awesome, you will never rank high in the newsfeed of people who are the link type or the video types. So make sure you keep on differentiating your posts.
It's also very important if the post is hidden by users. Avoid to share shocking images, just to get the attention. Only companies like Benneton managed to benefit from this type of content, most likely you will get punished.
To make the decision on what a user on Facebook will see, also depends on how that users interacted with other elements on her timeline. Although Facebook does a lot of calculations to select what advertisement you will see, this is a different kind of application.
But, if your Facebook friends click a lot on hair extensions advertisements, the chance is big your hair extensions on Facebook will appear in her newsfeed.
The tech stuff
Because some stories do perform better on newer devices, like the new generations smartphones, Facebook also takes a look at the device. If you use heavy video to show your hair extensions on Facebook because it will give the experience your visitor can actually feel them, your post will not be shown on the Facebook page opened on a slow performing earlier generation smartphone.
It's important if somebody started to like your page after an advertisement campaign or because your fan liked you after they found you thanks to a friend or by a search on Facebook. Keep this in mind if you invest in paid advertisements to attract more friends to turn them into customers!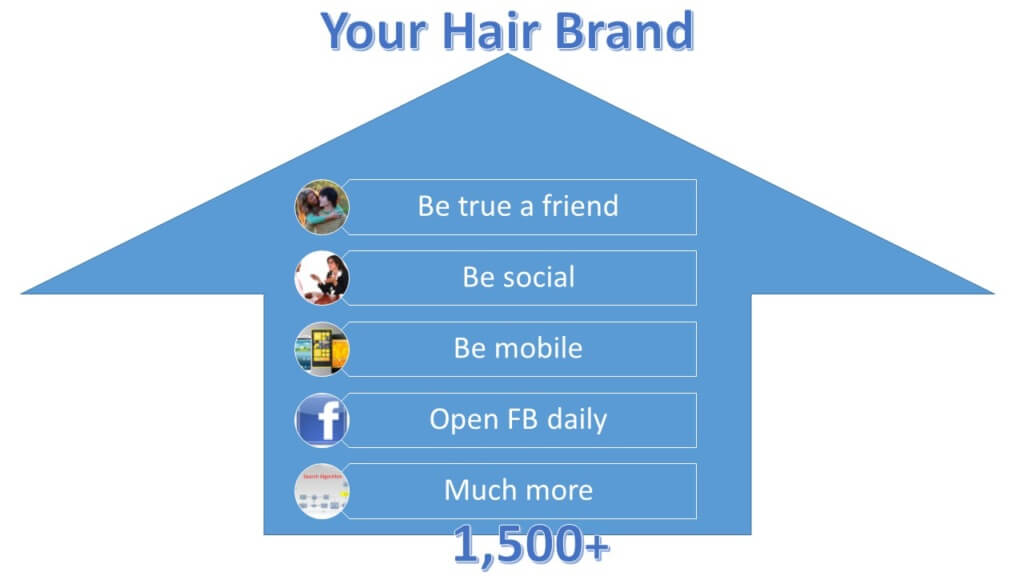 Get time on your side
Time is also an important factor, not only for the age of the story you share, the older the less popular, but also for yourself. The more often and frequent you login, the better friend of Facebook you are and the higher your post of hair extensions on Facebook will show.
Because Facebook believes you are not the same person anymore as the one you were 5 years ago, just take a look at your pictures back then. Facebook also take your most recent interactions more serious. So if a loyal client turns sour on hair extensions, she will not see your hair extensions on Facebook any more after some time.
This also works the other way around, if you managed to share a story, picture or video that still triggers people to interact long after it was published. This post will gain value for the community and it will rank higher than recent posts with less value.
You want Facebook to tell your story to as many users as possible?
The best results you get to put your hair extensions on Facebook is to set up a campaign. Plan your Facebook postings using Facebook analytics and your insight about what your clients like. If you have a clear ideal client profile use it to end up in their newsfeed.
You have a dream to launch your own hair store, or your hair sales are lacking behind expectations. What can you do? Give it all up and let others succeed? Wouldn't it be great to talk for 10 minutes with somebody who not only understands the hair extensions business, but who can help you with advice too?
You are not alone, you can always call me, I have blocked some time in my calendar already. I am waiting for you! Call me, Stefan