It's weekend and I decided to visit some hair extensions sellers in Nairobi. Lately I see an increase of visitors from Kenya to my website. In my mails I get more women from Kenya asking for support. I even have contact with a nice woman, born in Kenya, but who now lives all the way in the North of Europe who is selling hair.
Hair Extensions Sellers in Nairobi
So what's going on in Kenya? What do the hair stores offer, how do they approach their clients, and is there indeed room enough for hair extensions sellers in Nairobi? Because there I want to start my journey of this weekend.
Who is selling hair in Nairobi?
My journey started with Google Search, "Hair extensions sellers in Nairobi" and I found a post from Laura Wanjiru. "Hair Products Stores Online in Kenya".  She starts to tell about the needs of busy women in Kenya. They all like wigs and weaves, but lack the time to do shopping! The solution Laura tells is online shopping. It saves time and energy to look for online hair extensions sellers in Nairobi.
House of Weaves and wigs
Her first recommendation is House of Weaves and wigs, an online store (Facebook) plus own salon in Utalii street (near the Laico Regency Hotel). The Facebook page confuses me a bit. I see the last post is from April. Why is it this quiet? No customers any more or too many clients to find time to update the Facebook page. Laura was true. Women in Kenya have busy schedules. If you know House of Weaves and Wigs let me know in the comments below.
I will drop them a line and move further. The bad thing for stores on online shopping is visitors can change their mind within a second or two. So make sure you, if you are in business to share a sign of life. This can be a picture, a small comment, but anything is better than nothing. So hair extensions sellers in Nairobi, update your social media at least once a week, otherwise you lose great opportunities!
Unbeweavable hair Kenya
The second suggestion from Laura was Unbeweavable hair Kenya. The link to the Facebook page was invalid, so I used to google search. As I already planned to do so as from the beginning searching for hair extensions sellers in Kenya. The search page showed me lot of possibilities to visit Unbeweavable hair Kenya.
I wanted to see when the last post was, so I jump in the Instagram page. My Windows phone works with a Beta version of Instagram and the last weeks it is very difficult to use Instagram. I really regret this, because I love Instagram. You can see I did not post that many pictures myself recently, but please blame it on my Lumia phone.
Back to Unbeweavable hair on Instagram. Wow, I liked the pictures. Why? Because it was a mixture of photoshoots and selfies. Not to smooth but real. Especially the pictures from happy clients. Really, this is the only business where you can show so many happy people who all look gorgeous. These selfies of happy clients are a good way to gain confidence from new visitors. So if I was you, make your clients happy and ask for a selfie for your social media.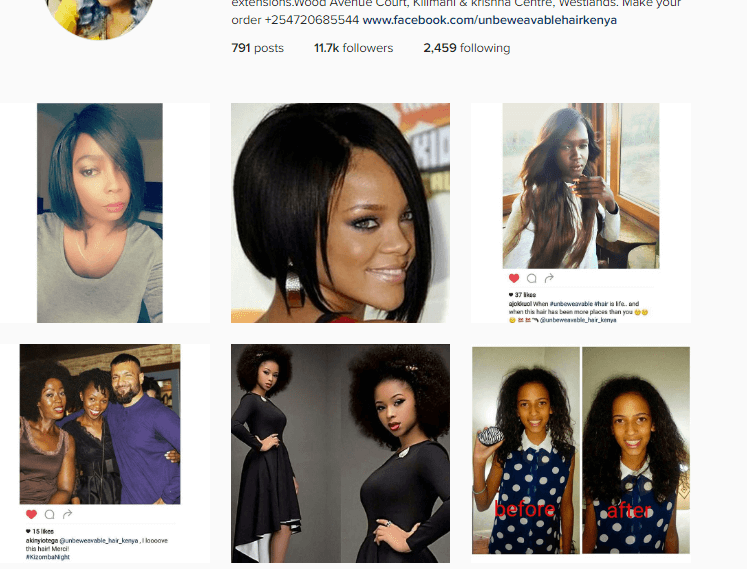 After all that social media, I wanted to visit the website, I know the last update on Instagram, nearly 12,000 followers, was done 16 hours ago. But on Instagram I only saw the link to Facebook. So, that's what I did, I clicked on the link again et voila! A Facebook page opened and it worked this time.  This page was with a post of the 18th of august rather up to date. And with over 100,000 fans a place to be for many.
Now I saw where they are located, so pay attention! "We are located in Wood avenue court in Kilimani. Turn right at the Wood Avenue junction off Argwings Kodhek road if coming from yaya/town.Turn right again onto the small cabro road just before Sidian Bank. Then turn left into a light blue gate. We are on the 4th building in the compound on the first floor."
Mission statement
Do you also always look for the about page, just to know more about the person behind the hair store. Here I found the link of the website too, so I visited Unbeweavable hair and a beautiful website opened. I check the … about is page and I could not believe my eyes. There in the middle of the page was the mission statement, they even highlighted it.
"Our mission is to bring the finest quality hair extensions that cater to your individual style at the most affordable prices."
Isn't it great because now you know what you can expect if you visit their social media or website or if you enter their store.
Tell me about Hair Extensions Sellers in Nairobi
Talking about their store, if you are from Kenya and you are in Nairobi, could you tell me more in the comments about  the Unbeweavable hair  store on  WOOD AVENUE COURT Wood Avenue, Kilimani. Or if you have ideas for a totally other kind of hair business.  In the meantime I look for more stores in Nairobi.