5 tips to pave the road to success for a website with many visitors who will do what you want
You know what your client is looking for, you have the hair suppliers who can deliver the hair and you know how to be different. Victory is around the corner! All you need is a web store designed for success.
Before we talk about success there is something you need to know. To measure the success of your website you need to know some benchmarks. The average website or store has a 40% bounce rate, this means 4 out of ten visitors who landed on a page of your website, left your site without visiting any other page. Google will have a very low bounce rate, but if you have a webpage with only one call to action, like "add to cart". You might have 7 out of 10 people who leave your page. A high bounce rate means you have to attract more visitors.
Another interesting indicator is the number of new visitors; most sites have 60% new visitors. These are people who do not know your business that well. So make sure to teach them about your brand.
How to get a website made for success.
1. Take your new visitors by the hand
If you visit a store for the first time, or any other place, you want to know what this all about right? So make sure you have a clear about us page. Tell about who you are, why you are in this business and what your mission is.
Write one strong headline at the top of the page and use the space below this headline to tell more.
2. You are at the right place
Tell your visitor they are at the right place. I am sorry to say, but most visitors, except for your own mother, are not visiting your website because they want to see your success. No most visitors land on your page because they need something. They need something and that's about the hair, the conditions and the service.
So make it clear to them, show pictures that tell more than 1,000 words. Do not forget to communicate to your visitors like you meet them face to face. After all there is only one person important on any website or business in the world. And that's the person who visit's your website!
Reassure this visitor that every next step is easy, avoid any surprise. Make clear what the next step is in the purchasing process.
3. The internet makes it more difficult to know what to believe. What's behind that beautiful website?
Share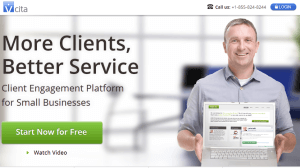 reviews and testimonials, show other companies you work with. Can your visitors select the point of contact they prefer, or can they only use BB messaging? Allow them to plan a call with you, so they can check you out, like my blue "Can I Help Button". Do not hesitate to publish your picture on the site, so visitors can connect with you.
4. Freedom of choice
Your visitor is in different phases of the purchasing process, the buyers journey. So if you have a button to buy your product, make sure you also have a button to get more info or to speak to a sales person .
5. Help your success
Finally, if a sale of hair extensions is a measure of success for you. You need to make it possible. Does your visitor know where to buy your hair, how to buy the hair and where to press? Pick clear buttons, and show with arrows or text where to click
So, make an about us page, be very clear about your offer, put a selfie on your website, let your visitor decide what to click when and give all the guidance to click on the right button.,
Now, visit your own website or store through the eyes of a new visitor, is everything clear for you? You can also ask your mother or me to check your site. Let's turn your business into a success!
You do not have a website yet, claim your name now! Check if your brandname is still available
But tell me, do you think my website is ready for success?