Do you want to sell or buy the best wholesale hair extensions?
What's going on in the hair extensions business? Lately the number of inquiries for a wholesale hair extensions supplier has been exploding!
Never so many start- ups and re-sellers contacted me for a hair supplier. They all want to find the best wholesale hair extensions.
The explanation is, in 2017 there will be an increase of stores opening their doors. They all need the best wholesale hair extensions to meet the demand of their clients and to make a nice profit.
Do you want to sell or buy hair extensions?
It's hard to believe. Last week I had a conversation with a nice girl who shared with me she was planning to start selling hair since 2014! That's three years ago, right!  She had the passion and now together we are going to make 2017 the year of the launch of her hair store. For sure there are many more women with passion who wait year after year.
After they received the email from the wholesale suppliers, they start to doubt. Doubts:
about if they will find the right clients,
about if they can make a nice website,
if they are ready to sell hair and,
about the money.
So many doubts and so many lost opportunities. But contrary to most problems they face, they keep all these doubts for themselves. They do not talk.  The keep on dreaming and will never feel the energy and happiness of success.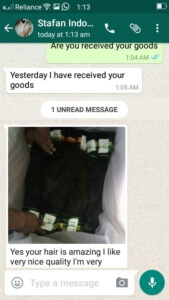 This is exactly your business opportunity. All those women who have doubts will never enter the hair market as your competition. Better you can turn them into your clients! Include them in your marketing message. You can engage with them easy, because you know exactly what the face and what they need.
Talk hair with your wholesale supplier
The only thing you must do different is, if you have doubts, if you are not sure, to start the conversation. Talk with the hair supplier. Ask for their advice, look for ways to work together to get happy clients and a nice margin. Benefit from the experience of your hair supplier, who talks daily to so many hair re-sellers.
I don't want you to keep on dreaming and to keep on buying your hair from other successful store owners the rest of your life.
If you prefer to share your doubts to start selling with me, please feel free to leave a comment or to app me + 31 6234 44 902. Do not wait any longer and start selling now!