Frustrated about your Hair Extensions Webstore, start selling!
I told you before, 2017 is going to be the year of Hair Extensions Stores! Join now, or keep dreaming for ever. And buy hair from others, instead of making money with hair.
Lately I can hardly keep up answering all the mails from highly motivated people.  I receive direct messages on Twitter and Facebook from people who want to start selling hair.
Now I also get more and more requests to design a hair extensions webstore. 2017 is two weeks old and already booming for the hair business. Tighten your seatbelts!
You dream about website design, join GirlsWhoCode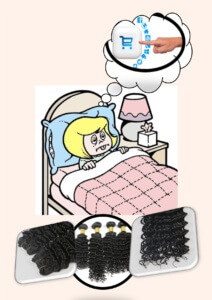 I already shared multiple times, how to find a hair supplier. This time, this post is all about a Hair Extensions Webstore. If you want to start selling hair, online. You need an awesome looking and user friendly hair website.
If you are in the hair business, you have the passion for hair and to make clients feel confident. Most likely you are not in this business to waste a lot of time and money on your hair extensions webstore. I can tell you, if you wake up in the middle of the night, mumbling about your website you are in the wrong business. Better to join GirlsWhoCode.
If you want to sell hair successfully, better to focus on the fun part. Engage with your clients and talk hair. Sell them the best hair available. Have conversations with hair suppliers to find the best hair. Talk to your clients, find the hair they need and sell. That's what you should be doing. All day long! Count your sales and profit at the end of the day. Not your unsold inventory because you were busy fixing problems with your hair extensions webstore.
If you want to go online with your hair store, let me know. I will help you. It all starts with finding the best name for your brand. Register the domain. Followed by an inspiring session to discuss how you want your online hair extensions website must look like.  I build your website and we use social media and life events to start selling as of day one.
Let me know if you are in the hair business to be selling! If you want your own website, leave a comment and I contact you to make it all work.