Your own Facebook Business Page
A Facebook Page can be your first step selling hair online. The great thing of a Facebook page for your hair business is you only need to invest time, not in money. And you can reach over 1 billion people thanks to Facebook!
In this post, you will read how to set up a business page in Facebook as your first step in online selling hair, or to support your website or web shop.
Step One Your brand name
You want people to find and to remember your Facebook page, so you need to have a good name for your hair brand. The ideas and rules for a brand name on Facebook are the same as names for a hair brand on a website or store.
How to find a hair store name
You can use your name for all the marketing communication you will use, your business cards, your packaging and your advertisements in a hair or fashion magazine.
Step Two the Image that will represent your brand
Think what image will tell the mission of your hair store, visitors of your Facebook business page will have to see right away thanks to your picture wat you offer and what your mission is. You can use a picture of happy clients, or only hair. Or think about your logo. You decide, but make sure to follow the recommendations of Facebook.
Your Facebook Page's profile picture:
Displays at 170×170 pixels on your Page on computers, 128×128 pixels on smartphones and 36×36 pixels on most feature phones
Will be cropped to fit a square
Your Page's cover photo:
Displays at 820 pixels wide by 312 pixels tall on your Facebook Page on computers and 640 pixels wide by 360 pixels tall on smartphones   Must be at least 399 pixels wide and 150 pixels tall
Step Three Your Personal Facebook Page
You can only create and launch your Facebook Business Page if you have a personal page. Big chance you already have this page, otherwise it's created within one minute.
Step Four create your Facebook page
To create a Page from your account, click on the arrow in the top-right corner, and then select Create Page.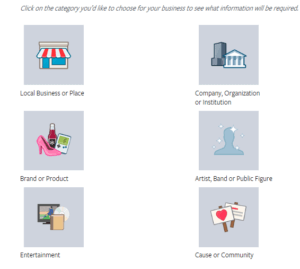 Now you select the category for your business. If you only sell online I recommend selecting the brand or product category otherwise if you have a salon go for the local business or place. The category you select helps you to get the business page that support your business needs the best.
Step Five tell the world about your hair business
To make sure first time visitors will understand they arrived at the place on the internet where they will get what they need, good quality hair it is recommended to fill in as much as information as possible.
Description: This section has a 155-character limit, so be sure to add the most important information here. Information can include your business location and offer to your hair clients.
Website: If your hair business has a website, be sure to add it so people on Facebook can easily visit your site.
Unique Facebook web address: Much like a personal Facebook profile, business Pages can create a unique Facebook URL. Once you choose your unique URL and click on Save Info. You will receive a message if the name is already in use by somebody else.
Step Six add your profile picture
Remember the image you selected in step two , now it is the time to upload this image on the website. You can also add the cover photo you found.
To add a photo, click on Add a Cover. You'll have the ability to upload a photo and reposition the image before it is published. Please take into consideration the format requirements.
When you've positioned the photo where you'd like it, click on Save and you're done.
Step Seven Done. Now share your page with me!
You are ready, and you can start to post hair on your own business page on Facebook. Good to know if you have over 100 followers you will have a great analytical tool at your disposal that will allow you to measure your performance with others. Good to improve yourself every day and to grow your business.
So, now tell me what is the name of your Facebook Business Page, so I can start to follow you! Leave the name in the comment below!