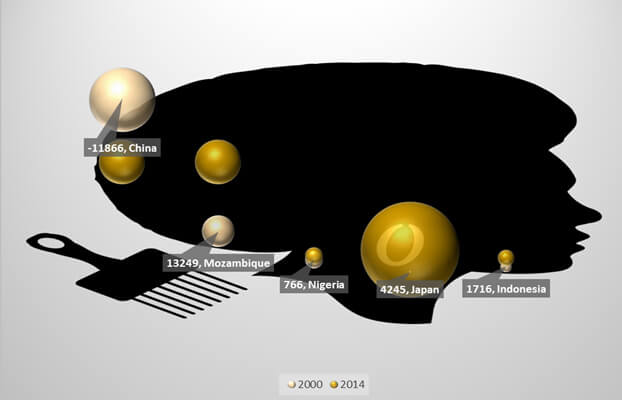 South Africa hair business ideas
Main developments:
Demand in Africa hair extensions per person has increased by 32% in last four years

China is no longer the main county for importing hair extensions, Mozambique and Japan grew very strong

Brazilian hair keeps on to be favorite texture, at distance followed by Peruvian and Indian hair.
The picture on top of this page shows the import to South Africa hair from China has been cut in two measured against 2010 (silver bullet) to 2014 (Golden bullet). The amounts in the pictures show the difference in import against 2012 in thousands United States dollars. Much Africa hair is imported from Mozambique, plus 34% and Japan. Import from Nigeria and Indonesia remained rather stable. The total import increased by 33%. South Africans has also found their way abroad this is shown in a 65% increase of export. Use of this data Based upon insight from keywords visitors Google one can predict the future interest. Actual trade data from the United Nations shows the evolution and size of the domestic demand of the human hair extensions market (import minus export shows domestic demand). This information is very useful for your business plan, but should be made tailor made to your own situation with more detailed information. Is the South African client looking for hair extensions or human hair wigs? Source: Google trends Remarks: The interest for hair extensions has been higher than wigs. Hardly any interest for synthetic hair, although recently more people search for this. What are the hottest items for a South Africa Hair business: Source: Google Trends
Market trend for South Africa hair extensions
Brazilian hair has been and will be also in the near future the hair extensions with the highest demand. But a newcomer on the market could, with success, investigate the demand for a one of the other hair extensions, like Peruvian . The interest for Peruvian hair is nearly at the same level as for Indian hair. Evolution demand for hair extensions in South Africa Use this information if you have to write your business plan for your own hair extensions shop or if you plan to expand your hair extensions wholesale business.
You have a dream to launch your own hair store, or your hair sales are lacking behind expectations. What can you do? Give it all up and let others succeed? Wouldn't it be great to talk for 10 minutes with somebody who not only understands the hair extensions business, but who can help you with advice too?
You are not alone, you can always call me, I have blocked some time in my calendar already. I am waiting for you! Call me, Stefan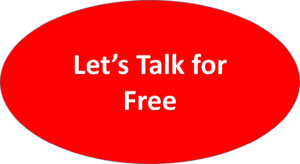 Want to start a real Africa hair business?
How to Make Money in a Business that´s Still Fun!
Every day women all over the world buy hair extensions, Straight, Wavy, Curly … just the hair extensions that makes them look the way like they should, beautiful. And now your side of the story, every day people are selling hair extensions, weft, clip in, feather… just the hair extensions that make their clients look best and why won´t you be the one selling?