The number of shops selling hair extensions online has grown substantially the last few years, not only thanks to the use of social media, but also thanks to Celebrities
promoting the use of hair extensions and the Gallery of Hair & Braids Step-by-Step Magazine Vol. 8
of the market. So more and more people want to buy hair and thus a growing number of people want to sell hair.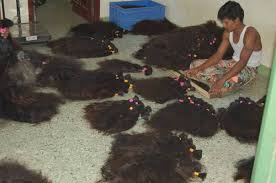 Start a hair extensions wholesale business
You can decide to open a web shop, like the shops on our mall, to benefit from this demand, but you can also consider supporting all these startups and resellers. This support can be first of all to offer good quality hair extensions at a price that allows the resellers (stylists, salons and hair business web shops) to make their own margin too. Avoid looking for cheap hair only, better to analyze your market and to support the resellers with good quality hair.
You also have to look for a good source for your hair; of course you can buy hair from another hair extensions wholesaler. Here you have to find a right balance between the advantages of a wholesaler, located in your own country or a country that you can easily visit, that takes away the risk and expenses of buying abroad and the higher cost price.
Visit countries that source hair extensions
You could also plan to visit some, for example, Asian countries to look for a good source for your hair. This you have to plan well ahead. Do not underestimate the importance of understanding the India 2014: New Information and Cultural Insights Entrepreneurs Need to Start a Business in India
, you will miss the best deals if you do not communicate right. You will need people that know the local market. Not every hair business in Asia will be ready to sell hair abroad. Sometimes they are only focused on the local market or they do not have any experience in selling abroad. In this case you need to spend time and money to work on the relation first.
Forecast your cash flow to avoid problems
In most cases you´ll have to pre-finance the operations and sales, so make sure you reserve enough money in your business plan for this. A good cash flow forecast, like in our business plan templates, will help you to survive any delay between the moment you send money to your source and the time you can finally sell hair to your own clients. Be sure you did your homework to investigate the need for a specific type of hair among your target clients first the faster you will earn back your investment and you can start to buy new hair again for your own hair extensions wholesale business!