Marketing tips if you want to know how to start selling hair
The best solution to get rid of the lack of sales is to get more customers, but how can you make this happen? This is the basic question for everybody who wants to know how to start selling hair. You have to build up trust, your potential client needs to get familiar with you and your hair products. This is possible if you follow the next steps.
It's important to know in the beginning, the number of visitors to your site, also called the traffic, is not very relevant. First you need to be sure you are able to offer your clients a smooth sales process. So wait spending money on Search Engine Optimization (SEO), because that will be a waste. If you want to know how to start selling hair or how to sell more extensions it's better to invest in the sales process. Try to turn these visitors into a lead, somebody that knows about your brand and somebody you have contact with. A lead contact is worth 30 times more than what a visitor is worth, so it pays off to invest in this conversion.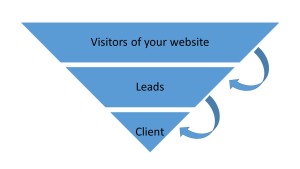 How to turn a visitor into a lead
There are several ways to turn visitors into a lead, the key thing is to get the attention of the visitor for your hair brand and to exchange contact details. If you walk on the street to hold a market survey, make sure after the talk share your business card and get the email address of the person you talked with. Always make sure you have something to share with people you talk to and at that same moment ask them for their contact details and promise them to keep them updated. Send them a thank you note the next day, now you have broken the ice and an excuse to start building a relation.
Nice, but how does selling hair work online?
To get leads online does not differ that much from real life, you need to get the attention of your visitors. So what about to offer your help to solve the biggest problem your clients are facing. Make sure it's in line with your products and make sure you do not give away the complete solution, because then you will not be able to stay in business because you shared everything for free. Offer something that moves your visitors some steps closer to the end result.
You can offer a sample, or a document with guidance or anything that involves in the solution and combine this with the exchange of their address. Now you can start to send them your newsletters, and every time you send a mail they will see your name, regardless if they open it or even click on your links in the newsletter. But of course it is more rewarding if your subscribers, who are now an official leads!
Evaluate your mailing list regularly, what kind of headers make receivers into readers and a step further what kind of links so irresistible for the readers not to click on and to visit your website with a special offer or interesting information.
On the website of Aweber you can find a numerous of ideas and tips to improve your mailing lists and thus to nurture your leads. Because the next step is of course to turn your leads into clients. Why don't you just follow a free webinar from Aweber on how to work and make money with eMails.
You can learn everything, from
How to set Up Your Account In 15 Minutes
Points covered:
Basic List setup
Welcome Message creation
Sign Up Form creation and placement
3 Key Email Newsletter Stats You Need To Track
Points covered:
What kind of subscriber activity can be tracked
Why track subscriber activity
How to identify and create segments
How To Build Sign Up Forms People Will Actually Fill Out
Points covered:
Sign Up Form strategies (getting people to notice your form, incentives to sign up)
Using and editing Form templates
Form placement
Overview of different Form types
How To Cultivate Happy Subscribers Using Follow Ups
Points covered:
Building a series of Follow Up Messages
Content ideas for Welcome Emails and other Follow Up Messages
Real world examples of Follow Up Messages
How To Put Together An Effective Email Newsletter
Points covered:
Using the Broadcast tool to create Newsletters
Content ideas for Newsletters
Scheduling and formatting tips
Just watch the webinars at a time convenient for you and start building a strong, beneficial client relation with everybody that visits your website or shop!
Was this post helpful, and are you ready to grow your business ?