Wholesale hair extensions manufacturers
You want to find the best reliable supplier for your clients and hair business, so you are looking for wholesale hair extensions manufacturers. To help you in this selection process we share with you our findings.
The company we found under the search term 'wholesale hair extensions manufacturers' was Reign Hair Factory Limited. According to their site Reign is "a leading wholesale hair extensions manufacturers and best virgin remy human hair extensions wholesale suppliers in China, which is located in Chunguang Rd, Xinzhuang Industry Zone, Shanghai."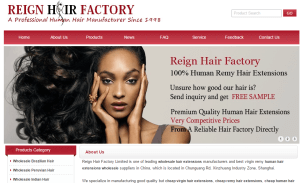 That's nice to read, but we would like to find some information from others about the company, so we look further.
Step 1 what is the web telling about Reign Hair Factory
Let's first read what others are telling us about Reign Hair Factory, so we created a news alert
in google. Simply type : Reign Hair Factory in the search bar and select the news tab. At the end of the search results Google will offer you the option to create a news alert.
All we have to do is to check in our mail box if somebody left some news or reviews about this company.
In the meantime we can use the social media they use to read if anything is shared or posted about them.
The company, who was incorporated in 1998 has very limited presence on social media, so it's not possible to form us an opinion about the company or it's products.
Step 2 Start the conversation
This company, offers a free sample, in order to find out how good their hair is. So let's introduce us and ask them about the conditions for free samples.
They offer two types of samples "We have two policies of the free samples, customer can get 15 grams samples for free just need to pay for the freight charge. And the other policy is you could choose to buy 3 pcs bundles(100grams per bundle), then we will return back the sample charge when the bulk order is confirmed. "
Wait and see
We mailed the company and will keep you posted about their response.
If you have any experience with this company, Reign Hair Factory, please feel free to share your experience with us as a comment under this post, so we can collect some reviews of wholesale hair extensions manufacturers. If you prefer to start already with your own hair selling store, all you have to do is to click.