Hair Extension Business Cards do the trick!
Do you have business cards for your hair extension store? Or do you believe, in the age of iphones, only electronic business cards will do? If you believe the latter, you will miss the opportunity to win a potential client, after your elevator pitch. And why would you?
Elevator pitch
You are the best marketing tool of your hair extensions business. Every day, when you go out you have the chance to show people your gorgeous hair. You do have your own brand installed, right? The great news is women who are searching for fresh hair, are very focused on the hair and hairstyle of others. So if somebody is admiring your hair, it's the moment you must be ready for.
Depending on the circumstances you will undoubtedly not have more than only a few minutes, a few minutes to tell about
your mission in the hair Bizz,
the story of your hair,
how you make people look and feel good and
the experience you sell.
This is a one of lifetime opportunity, so your professional success depends on your elevator pitch. A story about your brand and the hair in a few minutes, enough to share in an elevator.
She will forget you, unless…
If you finished your pitch, the potential client will continue her journey, with only the impression of your hair and your story to remember. How much will she recall after 10 minutes, or even 5 minutes later in a world full of impressions, news, tweets and all the other things that will push the memories of your pitch and your hair far away in the back of her mind.
What to do, knowing your hair is lavish and your pitch is like a rap to keep the attention, till the moment she is ready to buy?
This is how she will remember you
Now comes your second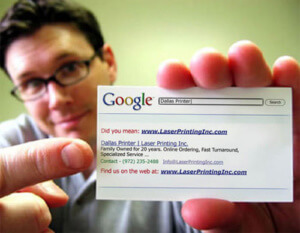 best off line marketing device, your hair extension business cards!
Do not run to vista print to print your name and address on any piece of paper, but invest some time and money in a card that represents your hair extensions business.
There are many options, even wood, plastic or metal. Imagine the astonishment for your potential clients to feel another texture than paper. And texture is one of the key features of hair. Believe me she will remember you even longer!
Or what about a very creative design on paper. Visually captivating designs imprint on a person's memory deeper than dull or plain designs, so again she will remember you and your beautiful hair much longer.
And if you still believe in the age of smartphones and google, paper business cards will be less effective in the hair extensions business, what about a business card in the style of a google search, using the key words you rank for on Google?
Claim your name, otherwise everything is for nothing
My last guidance, do not forget to claim your brand name as domain otherwise all your struggle of getting new clients on-board will be for nothing because the women or men who fell in love with your hair will end up in the wrong store. So claim your hair brand name!