How to start a hair business
You have been buying hair extensions or weaves for some time already and you have seen many stores and salons selling extensions and now you wonder, how to start a hair business and make money and look great instead of making others rich?
There are some possibilities of starting a hair business, to give you some inspiration see below five examples of a hair business you could start.
Hair extensions store
A hair extensions store offers hair extensions to retail clients, like women or men with interest to buy hair extensions or hair products for their own use. You can specialize in a certain type of hair, or try to sell your own hair line. You have to search for one or two suppliers to ensure a timely and guarantee the quality of the hair you offer.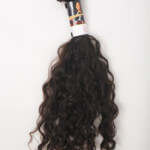 2 Hair extensions wholesale supplier
In the slipstream of the growth of resellers of hair extensions, you see an increased market for hair extensions wholesale suppliers.  This can be a very profitable market because you buy your hair direct from the donor or the country of origin. If you have found some great reliable suppliers you can make some nice margin if selling the hair to shops or salons. But you have to invest time and money in keeping an eye on the hair market and to maintain the relation with the suppliers and quality of the hair. You can decide to buy bulk hair and to manufacture the wigs and weaves and others extensions, or to work with a hair manufacturer. To know how to start a hair business also involves to make decisions about the work progress.
3 Salon or spa selling hair extensions
If you already have a salon, spa or other beauty business, why not adding extra margin to your business. If you work as a stylist your revenues are limited due to the working hours. If you want to make more money, you can only increase your fee by small steps. But if you add non hour related income, like hair extensions you can add additional income plus you control the quality of the extensions installed by your customers.
4 Mobile hair store
Visit your clients where they like to be the most, college, shopping mall or even the business centre or simply at home. Make them feel at ease when you show them the various extensions you can offer. You can charge an additional fee because you bring comfort with your offer and you save on the expenses of having a store and showroom at home. But you should invest in transportation, a car or other vehicle to visit your clients.
5 Hair extensions events store
This is the trend, bring your clients in the mood by bringing together 10 or 15 women and let them feel, touch, smell en enjoy your hair extensions. Build a nice entourage and organize a party around a certain theme, like holiday, celebrities, sports or any other interesting theme, like the Oscars? Organize some catering and bring the ladies in the right mood, you'll see your sales will be very interesting. You will have some extra expenses for the space to rent and the decoration, but your average sales will be higher.
We hope this post on how to start a hair business has been of great help for you.
You can share this page with a friend and to start a hair business together, or to help her with a nice idea to become financial independent and to buy you a free lunch for the tip!