Hair Extensions in Sweden with a flavour of Kenya
I am always nervous the first time I visit a web store. Today I visited the brand new crispy fresh website of Shirley, GlossyLicious. A store that offers Hair Extensions in Sweden
Why I am nervous? I always look forward to get surprised to visit a website that is different from the others and that will invite visitors not only to come back, but also to buy some great products. Sometimes a website disappoints, and sometimes they make my heart beat faster.
I clicked the link, Shirley shared the link by WhatsApp, and a beautiful girl with gorgeous hair looked me straight into the eyes. It was like she told me to come further, and difficult for me to resist beautiful eyes, I decided to visit every single page of this website.
About Hair Extensions in Sweden
My first page was the About Us Page, because I know people prefer to know who is selling the hair, before they buy. GlossyLicious is making a promise, they help you to find the new you, to recapture your life. For me this means they want to connect with you as a client so they can make you look and feel good.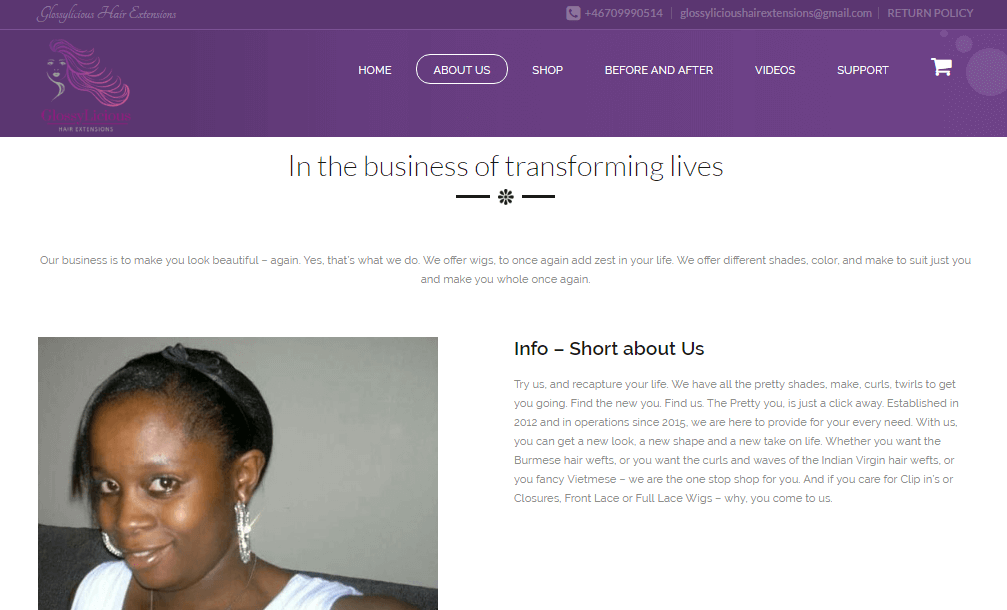 There is no information yet about the women who founded this company, I hope to read more about her soon.
The before and after page
I love to see before and after pictures, a great way to show how the treatment and the products can change a person into a gorgeous looking lady. GlossyLicious showed with the pictures also she builds a bridge between the blond Swedish culture and Kenya. Very nice to see, women of different color.
There is room for many more before and after pictures, I will certainly come back to see more pics.
Hair Extensions
What kind of Hair Extensions you can buy in Sweden? I see Indian hair, Burmese and Vietnamese hair, including closures, accessories and even hair products.  A very wide variety of hair extensions, wigs and closures.
Newsletter
I did not leave this website before I signed up for the newsletter, I look forward to receive the latest news about GlossyLicious in my inbox. I wish Shirley, her visitors and clients the best with this beautiful website and nice looking hair!